IGCAR Recruitment 2019 | www.igcar.gov.in | Freshers | Junior Research Fellow | 30 Posts | BE/ B.Tech/ ME/ M.Tech/ M.Sc | Kalpakkam | Last Date: 20th May 2019
Company: Indira Gandhi Centre for Atomic Research
IGCAR was established in the year 1971, under the Department of Atomic Energy, Government of India. The centre is engaged in broad based multidisciplinary programme of scientific research and advanced engineering directed towards the development of Fast Breeder Reactor technology.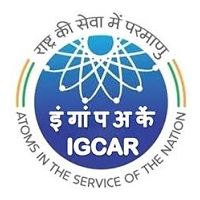 Fast Breeder Test Reactor based on unique mixed Plutonium Uranium Carbide fuel, First of its kind in the world and KAMINI Reactor, the only operating Reactor in the World using U233 fuel are successfully operated. The design of 500 MWe Prototype Fast Breeder Reactor is completed and the construction is in progress.
Officail Website: www.igcar.gov.in
Positions: Junior Research Fellow
Total Vacancies: 30
Job Location: Kalpakkam (TamilNadu)
Salary: Rs.31,000 PM
Eligibility Criteria:
JRF (CAT-A): Masters in Science/ Integrated M. Sc is the eligible qualification for the following subjects
Physics – Mathematics/Numerical Methods must be one of the subject at M.Sc. level and Chemistry as ancillary at B.Sc. Level
Materials Science/ Materials Science and Engineering – Physics, Mathematics and Chemistry at B. Sc. Level or B.Sc. in Materials Science
Chemistry (General, Applied, Organic, Inorganic, Physical, Analytical) – Physics and Mathematics as ancillary subjects at B.Sc. Level
Radiation Physics – Physics, Chemistry and Mathematics as ancillary subjects at B.Sc. level
JRF (CAT-B): M.Tech / ME in Nuclear Engineering / Nuclear Science & Technology
JRF (CAT-C): BE/ B.Tech/ B.Sc Engg./ B.Sc [Tech.] in any one of the following disciplines with a valid GATE score
Chemical Engineering
Computer Science Engineering
Electronics and Communication Engineering
Metallurgical Engineering
Mechanical Engineering
Materials Science & Engineering
Materials Technology
Engineering Physics
JRF(Cat-D): Candidates with M.Tech.
Admission to M.Tech. should be on the basis of GATE score
The GATE Score should be in any one of the disciplines mentioned in Category C
Should have their BE/ B.Tech/ B.Sc Engg./ B.Sc [Tech.] degree in any one of the disciplines listed in Category C
Note: Candidates those who have completed or pursuing (in final year/semester) the Qualifying degrees are eligible to apply.
Age Limit: Below 28 years as on 20-05-2019
Selection Process:
Applications will be scrutinized and suitability of candidates will be decided on the basis of their academic performance.
Suitable candidates under the Category A & B will be selected based on WRITTEN EXAMINATION and INTERVIEW.
There will be no written examination for all the candidates in Category C & D and candidates would be shortlisted based on GATE score.
Examination Centre:
Written Examination: Chennai
Selection Interview: Kalpakkam/ Chennai.
How to Apply: All interested and eligible candidates apply for Apprentices vacancy through online from 1st May 2019 to 20th May 2019.
For More details: Click Here
Apply Link: Click Here